Wilmington DWI Attorney
DWI Defense in North Carolina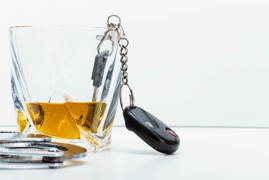 North Carolina has some of the strictest DWI laws in the nation. Even for a first-time offense, you may have your license revoked, face jail time, and be subject to fines. Protect your driving privileges and future today by calling our Wilmington NC DWI lawyer at James F. Rutherford, Attorney at Law, P.A.
If you've been pulled over for a DWI, the most important thing you can do is protect your rights. Avoid answering any incriminating questions, be polite when talking to the police officer, and immediately contact a DWI attorney in Wilmington if the stop leads to an arrest. Our Wilmington DWI attorneys can help you understand your options and walk you through complex DWI laws. You can count on us to fight for the best possible outcome inside and outside of court.
Don't face DWI charges alone. If you've been arrested for a DWI, call our Wilmington DWI lawyer today at (910) 595-1377.
North Carolina DWI Penalties
In North Carolina, DWI penalties are based on "levels," with each level indicating the severity of the factors involved. Level A1 is the most serious while Level 5 is the least. When a judge assesses DWI penalties, he or she will look at any mitigating or aggravating circumstances involved to determine your penalty level.
First Offense DUI in North Carolina
Up to 2 years in jail if grossly aggravating factors are involved
License revocation or suspension up to 1 year
Court costs and fines that increase if aggravating factors are involved
Community service
Second Offense DUI
In North Carolina, repeat offenders or DWI offenses with aggravating circumstances, you may be subject to the following:
Higher fines
Longer jail time
Mandatory installation of an interlock ignition device
Longer suspension periods
In addition to the criminal penalties, you may also face increased insurance premiums. In some extreme cases, you may even be denied coverage altogether if the company views you as a high-risk policyholder due to your DWI charges.
What Are Considered Aggravating Factors?
The most serious level of DWI that you can be charged with under North Carolina law, is Level 1 aggravated. As your penalties for this level can be severe, it is important to understand the factors that can lead to this conviction. The judge can determine your level on based on the following aggravating factors:
Speeding
Prior criminal or driving record
BAC of 0.15% or higher
Child in the vehicle (under 18 years old)
Driving with a suspended license
Reckless driving
Our Wilmington DWI lawyer is prepared to defend you if you have been charged. Start your defense by calling (910) 595-1377 today.
Put a Certified Specialist on Your Side
James F. Rutherford is a Certified Specialist in Criminal Law by the North Carolina State Bar and has been Certified in Standardized Field Sobriety Testing by the National Highway Traffic and Safety Administration. He has an in-depth understanding of the law and how field sobriety tests are conducted - along with their many flaws and inaccuracies. Level the legal playing field by putting his unique expertise on your side. We'll work hard to help you challenge the DWI evidence against you and build a strong defense.
Call a Wilmington DWI lawyer at (910) 595-1377 to explore your defense options.